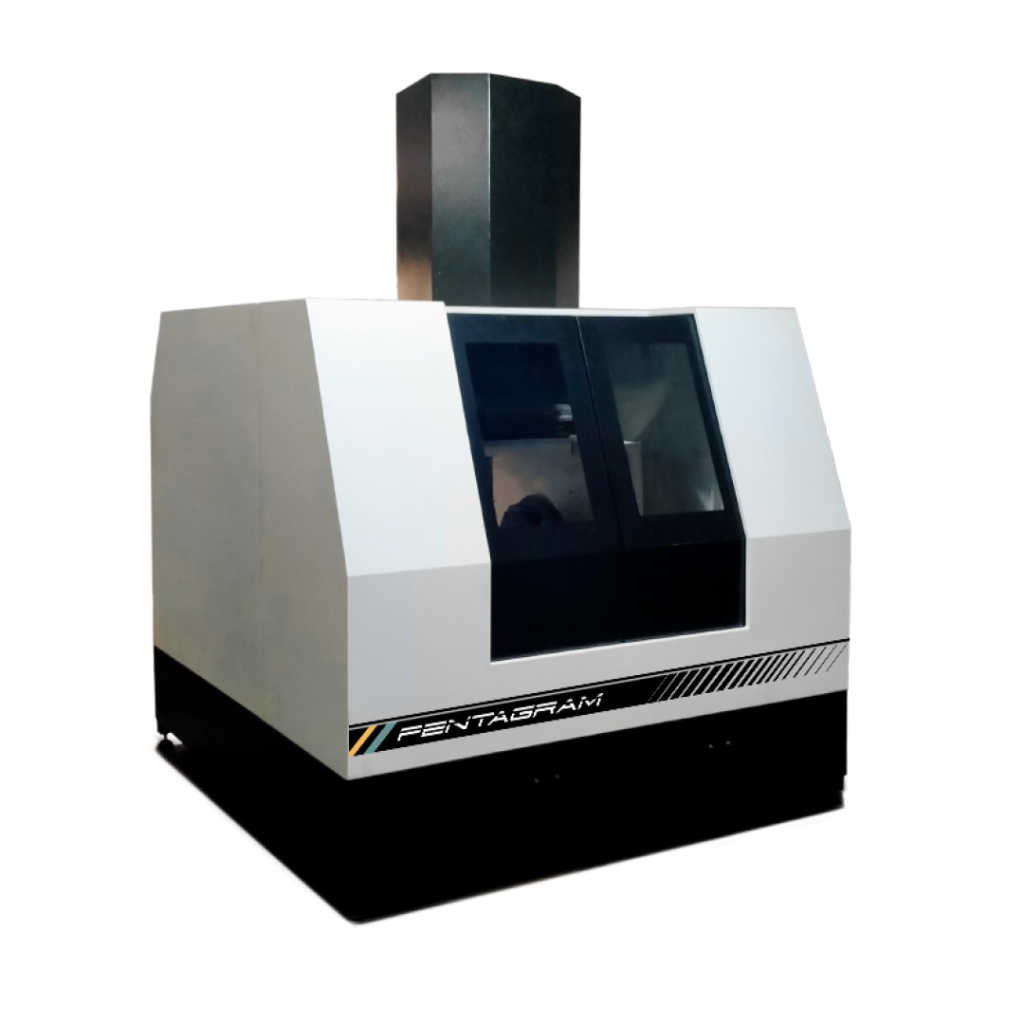 Simultaneous 5-Axis CNC Machining Centre
Engineered with the highest precision: The Ethereal Pentagram is a Simultaneous 5-Axis CNC Machine. Our simultaneous 5-Axis machining technology raises the limits on the types of part geometries you can machine. By empowering you to produce highly complex components in a single setup, our 5-Axis CNC machining centers unbridle the imaginations of your engineers and redefine your overall capabilities. Equipped with the capabilities of machining a plethora of materials, the Pentagram is poised to disrupt the manufacturing industry.
This Simultaneous 5-Axis machining center not only ensures productive flexibility, but also high cutting performance and maximum precision coupled with high dynamics and excellent accessibility. Apart from the geometrical variety resulting from the 5-Axis performance, task-optimized spindle alternatives guarantee perfect general conditions in all the areas of application of the CNC machining technology. The range extends from materials that are tough to cut, e.g. in the aerospace industry, to those which require the highest accuracy and surface quality in the area of tool-making and mold-making.
Pentagram has been made keeping in mind both the industrial and individual users. The Pentagram is a one-stop solution for manufacturing industries like Automobile, Aerospace, Precision Machining, etc. The machine is compatible with a wide range of designing software ensuring easy operability of the machine.
Travel
X – AXIS: 420 mm
Y – AXIS: 820 mm
Z – AXIS: 420 mm
A – AXIS:  -110° to +40°
C – AXIS: 360°
Spindle
Power: 45 kW
Speed: 20,000 rpm
Tool Changer: 140 Tool Magazine
Tool Interface: HSK A63
Footprint
Length: 2 m
Width: 1.4 m
Height: 2.4 m
Weight: 3500 Kgs
Why Choose Ethereal Pentagram?
The term "5-axis" refers to a machine's ability to simultaneously move a tool or a part in five different axes. On a 5-Axis CNC machining center, the tool moves across the Z linear axe and the table rotates simultaneously on the X and Y linear axis and A and B rotary axes. You process a part from 5 directions in a single setup.
Ethereal Machines continues to improve its products with its customer in mind. Our 5-Axis CNC machining solutions help in the cost-effective manufacturing of complex designs. Investing in a CNC machine like Ethereal Pentagram will make an enormous difference to your business's efficiency, productivity, and most importantly to your bottom line profits.